Free Indeed Ministries, Inc. is a non-profit organization dedicated to the transformation of incarcerated women and men through prayer, evangelism, discipleship and counseling to assist them in their transition from prison to community. Our desire is to see the transformation of those incarcerated from depending upon the world for their hope and provision to trusting in God for all of their needs..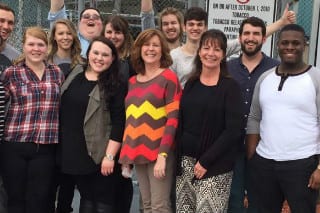 Yarl's Wood IRC Centre is a fully contained residential center housing adult women and adult family groups awaiting immigration clearance to stay within the UK. If the detainees do not get their clearance to stay, they are deported back to their country. Some of the women are seeking asylum because they are fleeing from desperate situations e.g. war zones, human trafficking etc.
Freedom Outreach "A Ministry to the Military"
…….Connecting military, veterans and their communities with a missional Christian family.
We recognize the military and expatriate community make up a distinct group of persons from the larger population of most geographical locations. The fact they are far away from home, reflect wide cultural diversity and often have extensive experience dealing with hardship, make them exceptional candidates to form close knit action communities. We do not wish to form communities of isolation but rather link these special people with self-sustaining communities that help each other to grow and to make their local area and the world a better place
Freedom Outreach is a Ministry to the Military that serves and ministers to members of all branches of the uniformed military services and their families. In addition, the Organization regularly serves military veterans, expatriates, host country nationals and their families through a variety of both traditional and innovative methods. Services are currently delivered at diverse locations in the USA and in 17 different countries.

Retreats and training conferences
Retreats and training conferences are a vital part of Freedom Outreach, especially in overseas areas. These help to connect those stationed far from each other on foreign soil, as well as in the U.S., to other believers and expose them to
excellent training, teaching, fellowship and vibrant worship. Every effort is made to provide the best available program to make sure these events are deeply impactful to our military men and women and their families.
In the United States Freedom Outreach is available to network with and provide resources to churches and para-church organizations located near U.S. Military facilities. Alumni from overseas centers, veterans, and active duty military men and women assigned in the U.S., frequently will look for a church that is connected with the Freedom Outreach overseas. These are designated variously as "Military Contact, Military Air-Lift and Military Outreach Churches."
Willow Lane – South Carolina Department of Juvenile Justice
… we go on the second Saturday of every month…bible discussion and mentoring.
Willow Lane is a gender-responsive program comprised of educational, clinical and independent living experiences for girls. The program houses a Transition House, which incorporates transitional living into the rehabilitative process. The facility originally opened as the Riverside School for Girls in 1966.
Willow Lane Mission Statement
Willow Lane girls are the future.  We empower and support them to be productive citizens in their communities.
Values
We believe:
Girls are valuable and unique.

Girls deserve respect and dignity and should display respect for the rights and opinions of others

Girls need to develop positive relationships.

Girls should take responsibility for their choices and actions.

Girls can change in an environment that includes treatment, structure, discipline, spiritual growth, and education.

Girls will take the skills and knowledge acquired at Willow Lane and apply them every day in their schools, homes, jobs, and communities.